Healthy Halloween Treats and the Teal Pumpkin Project's Fight Against Food Allergies
Healthy Halloween Treats and the Teal Pumpkin Project's Fight Against Food Allergies
Celebrating Happy Halloween this week means a week full of sweet treats and candies. Certainly one night a year it's okay to splurge, but if you are hosting your own Halloween party here are some spooky treats that will make easier to get back on the healthy track following this sweet Holiday!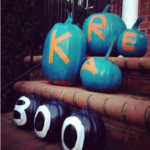 The Teal Pumpkin Project, while many children are out and about trick-or-treating and enjoying the holiday goodies, there are others whose Halloween can become more of a challenge. For families managing children with food allergies Halloween can truly be a "tricky" time. Many of the traditional Halloween treats aren't safe for children with life-threatening food allergies, often meaning these children do not get to participate in the fun tradition. The Teal Pumpkin Project is designed to promote inclusion of individuals managing food allergies. Participating in this project is simple, simply paint a pumpkin teal and display it on your front porch, and either provide non-food treats, of course you may still provide candy treats, but the pumpkin will signify that you do have other options. Here is a fine example from one of my dear friends!
Candy Corn Fruit Cup
Pineapple, cut into bite sized chunks
Oranges, cut into bite sized chunks (or I used small Cuties)
Whipped cream
Candy corn
In a clear glass, layer pineapple, then oranges and top with whipped cream and a couple pieces of candy corn. Serve right away or refrigerate until ready to serve. Serves 4-8.
The Great White Pumpkin Cheese Ball
2 (10-oz.) blocks extra-sharp white Cheddar cheese, shredded
1 8-oz.) Package cream cheese, softened
2 (4-oz.) goat cheese logs, softened
1/2 teaspoon pepper
Braided pretzel, muscadine vine and leaf
Crackers and assorted vegetables
Stir together first 4 ingredients. Shape mixture into a ball to resemble a pumpkin. Smooth pumpkin's entire surface with metal spatula or table knife. Make vertical grooves in ball, if desired, using fingertips. Press pretzel into top of cheese ball to resemble a pumpkin stem; place muscadine vine and leaf beside pretzel. Serve with crackers and assorted vegetables. Yields 12 appetizer servings.
Green Dip with Spooky Chips
Dip
3 tablespoons pine nuts
3 (1-oz.) packages fresh basil (about 3 cups)
1 (16-oz.) container sour cream
3/4 cup grated Parmesan cheese
1 garlic clove, chopped
2 tablespoons fresh lemon juice
1 teaspoon sugar
1/4 teaspoon salt
Garnish: shredded fresh basil
1/4 cup butter, melted
1/2 teaspoon coarsely ground pepper
1/2 teaspoon kosher salt
5 (9-inch) wheat wraps
Dip
Heat pine nuts in a small nonstick skillet over medium-low heat, stirring often, 3 to 5 minutes or until toasted. Cool 15 minutes.
Process pine nuts, basil, and next 6 ingredients in a food processor until smooth, stopping to scrape down sides. Transfer to a serving bowl. Cover and chill 1 hour. Store in refrigerator up to 2 days. Garnish, if desired.
Spooky Chips
Stir together first 3 ingredients. Cut wheat wraps with a 3-inch bone-shaped cutter, and place on baking sheets. Brush evenly with butter mixture.
Bake at 350° for 8 to 10 minutes or until crispy. Remove to wire racks, and cool 15 minutes or until completely cool.
**To save time you can just cut the wraps in strips
Yummy Chocolate Crunch
1 cup Wheat Chex cereal, (2 ounces)
1 cup pretzel sticks broken in half, (2 ounces)
1/4 cup salted roasted almonds, (2 1/2 ounces)
3 tablespoons bittersweet chocolate chips, melted (see Tip)
Combine Chex, pretzels and almonds in a medium bowl. Drizzle with melted chocolate; stir to combine. Spread the mixture on a wax paper-lined baking sheet and refrigerate until the chocolate is set, about 30 minutes.
Recipe may be made ahead andrefrigerated in an airtight container for up to 5 days.
To melt chocolate: Microwave on Medium for 1 minute. Stir, then continue microwaving on Medium in 20-second intervals until melted, stirring after each interval. Or place in the top of a double boiler over hot, but not boiling, water. Stir until melted.
Yields 4 ¾ cup servings each serving contains; Calories 218, Fat 8g, Cholesterol 0g, Carbohydrates 35 g, Protein 5g, Fiber 3g, Sodium 397mg.
Easy Caramel Popcorn
Cooking spray
1 cup packed dark brown sugar
1/2 cup light-colored corn syrup
1/3 cup butter
1 tablespoon light molasses
1 1/2 teaspoons vanilla extract
1/2 teaspoon baking soda
1/2 teaspoon salt
12 cups popcorn (popped without salt or fat)
Preheat oven to 250°. Coat a large jelly roll pan with cooking spray.
Combine sugar, corn syrup, butter, and molasses in a medium saucepan; bring to a boil over medium heat. Cook 5 minutes, stirring once. Remove from heat; stir in vanilla, baking soda, and salt. Place popcorn in a large bowl; pour sugar mixture over popcorn in a steady stream, stirring to coat.
Spread popcorn mixture into prepared pan. Bake at 250° for 1 hour, stirring every 15 minutes.
Remove from oven; stir to break up any large clumps. Cool 15 minutes. Serve warm or at room temperature.
Note: Store in an airtight container for up to 1 week.
Yields 18 2/3 cup servings, each serving contains; Calories 126, Fat 3.6 g, Protein 0.7 g,
Carbohydrate 23.9 g, Fiber 0.8 g, Cholesterol 9 mg, Sodium 151 mg.