Champion Recipes From the 2014 Lenoir County Fair!!
Find this article at:
go.ncsu.edu/readext?318203
If you are looking for a Blue Ribbon Award winning recipe to try, then look no further. Here are some of the prize-winning recipes from the Lenoir County Fair! Hope you enjoy and next year maybe you too will give the contest a try!
This first one is a Red Ribbon Winner but my favorite recipe of the day!!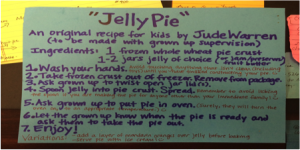 In case you cannot read the photo, typing may not do it justice, but here you go. This recipe is an original by Jude Warren, as told to his mother Holly Warren. So happy to see our young chefs giving the contest a try.
"Jelly Pie"
An original recipe for kids by Jude Warren (to be made with grown up supervision)
Ingredients
1 frozen whole wheat piecrust
1-2 jars jelly of choice (or jam / preserves / fruit butter)
Directions
Wash your hands. Avoid touching anything that isn't clean (including toys) until you have finished constructing your pie.
Take frozen crust out of freezer. Remove from package.
Ask grown up to twist open jar lid(s).
Spoon jelly into piecrust. Spread. Remember to avoid licking the spoon if you are making the pie for anyone other than your immediate family!
Ask grown up to put pie in oven. (Surely. They will turn the oven on to an appropriate temperature).
Let the grown up know when the pie is ready and ask them to take the pie out.
Enjoy!
Variations
Add a layer of mandarin oranges over jelly before baking.
Serve pie with ice cream.
Lemon Cake Pie
Heather Wentz
Best of Show, Blue Ribbon Winner, Adult

Ingredients
9-inch deep dish piecrust
1½ cups sugar
2 tablespoons butter
3 eggs, separated
1¼ cup milk
⅓ cup flour
¼ teaspoon salt
½ teaspoon grated lemon peel
6 tablespoons fresh lemon juice
Directions
Place rack on lowest position in oven. Preheat 375°F.
Mix butter and sugar, stir in four, salt, lemon juice and lemon peel. In a small bowl, beat egg yolks with milk until well blended, stir into lemon mixture. In another bowl, beat egg whites into lemon mixture. Do not mix too much.
Pour filling into crust. Bake 45-55 minutes.
Chewy Peanut Butter Cookies
Tom Warren
Blue Ribbon Winner, Adult Cookies
Ingredients
1½ cup all-purpose flour
1 teaspoon baking soda
½ teaspoon salt
1¼ cup creamy peanut butter
¾ cup packed light brown sugar
8 tablespoons butter, melted
½ cup light corn syrup
¼ cup sugar
1 egg and 1 egg yolk
1 teaspoon vanilla
⅓ cup dry roasted peanuts, finely chopped.
Directions
Combine flour, baking soda, and salt in mixing bowl. In another bowl, whisk peanut butter, sugars, corn syrup, egg and yolk and vanilla until smooth. Stir two mixtures together until barely combined. Divide dough in half, wrap each half in plastic and refrigerate for one hour.
Heat oven to 350°F. Line baking sheets with parchment. Roll 2 tablespoons chilled dough into ball and press ball into ¾ inch cookie shape. Top with peanuts.
Bake 12-14 minutes, switching pans and rotating pans halfway through. Cool 5 minutes on sheets, transfer onto a wire rack. 
Peanut Butter Toffee Chocolate Chip Cookies
Best of Show, Blue Ribbon Winner, Youth Cookies
Ingredients
½ cup butter
½ cup crunchy peanut butter
½ cup brown sugar
½ cup sugar
1 egg
2 teaspoons vanilla
½ teaspoon baking soda
½ teaspoon salt
1½ cup all purpose flour
4 ounces (½ bag) Heath toffee bits
6 ounces (½ bag) semi sweet chocolate chips
Directions
Cream butter, peanut butter, and egg. To the butter mixture add sugars and vanilla and blend well. Mix baking soda, salt and flour in separate bowl. Gradually add dry mixture into creamed mixture. Mix well. Stir in toffee bits and chocolate chips.
Drop by rounded teaspoonfuls onto greased baking sheet, space 2 inches apart.
Bake at 350°F for 10-12 minutes.
 Yields approximately 30 cookies.
Italian Cream Cake
Marva Brown
Blue Ribbon Winner, Adult Layer Cake

Ingredients
Cake
2 cups sugar
½ cup margarine
½ cup Crisco
5 eggs separated
2 cups flour
1 teaspoon baking soda
1 cup buttermilk
1 teaspoon vanilla
1 cup coconut
1 cup pecans
Cream Cheese Frosting
8 ounces cream cheese
½ cup margarine
1 box powdered sugar
1 teaspoon vanilla
Directions
For Cake
Preheat over to 350°F.
Beat margarine, Crisco and sugar until creamy. Add egg yolks one at a time while beating. Sift flour and soda together. Add flour and buttermilk alternately. Add pecans and coconut. Beat egg whites into cake batter.
Bake in three 9 inch round cake pans for 30-35 minutes or until light brown.
For Icing:
Mix softened cream cheese, margarine and sugar until creamy. Add vanilla. Use to frost top and between layers of cake.